FORESEA
The FORESEA project aims to help bring ocean energy technologies to market by providing access to northwestern Europe's world-leading network of test centres. Through the project, the performance of innovative ocean renewable energy technologies will be demonstrated in real sea conditions, helping to leverage the investment needed to take these new products to market.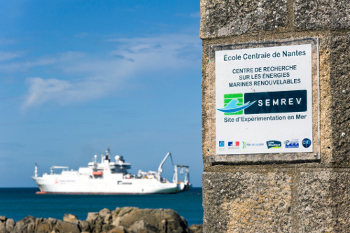 Access to test sites will be provided through a programme of competitive calls, run by the project's consortium. The programme covers the following test centres:
• European Marine Energy Centre (EMEC): Orkney Islands, UK
• SmartBay: Galway, Ireland
• SEM-REV: Nantes, France
• Tidal Testing Centre: Den Oever, Netherlands
Ocean Energy Europe
will provide support to the test centres for project implementation.
Eight technologies will be tested on the SEM-REV offshore test site with FORESEA support from 2017
Following the first three FORESEA calls for proposals, the applications of Geps Techno, Pytheas Technology, FMGC, Flex Sense, Ideol, INTERDRONES, HACE & NEREIS Environnement were selected to test their technologies at the SEM-REV offshore test site operated by Centrale Nantes.
Projects already tested or currently on the offshore test site:

Ideol: FLOATGEN
The testing period of the floating wind turbine designed for this project will be financed partially within the FORESEA project and will enable analysis of:
the impact of the floating wind turbine and its mooring system on the environment
the quality and quantity of electricity produced by the wind turbine
system performance
exploitation and maintenance costs
Floatgen is installed on the SEM-REV since spring 2018.
Ideol Contact: Thomas Choisnet
FMGC: IBOCS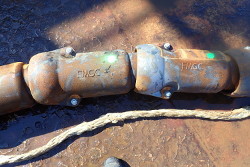 FMGC deployed the cast iron shells they are developing to ballast energy cables, in December 2018 on SEM-REV. The objective is to demonstrate the stability of cables ballasted with shells over several months, including during winter storms.
FMGC Contact: Nicolas Saliot

NEREIS Environnement: SEAc project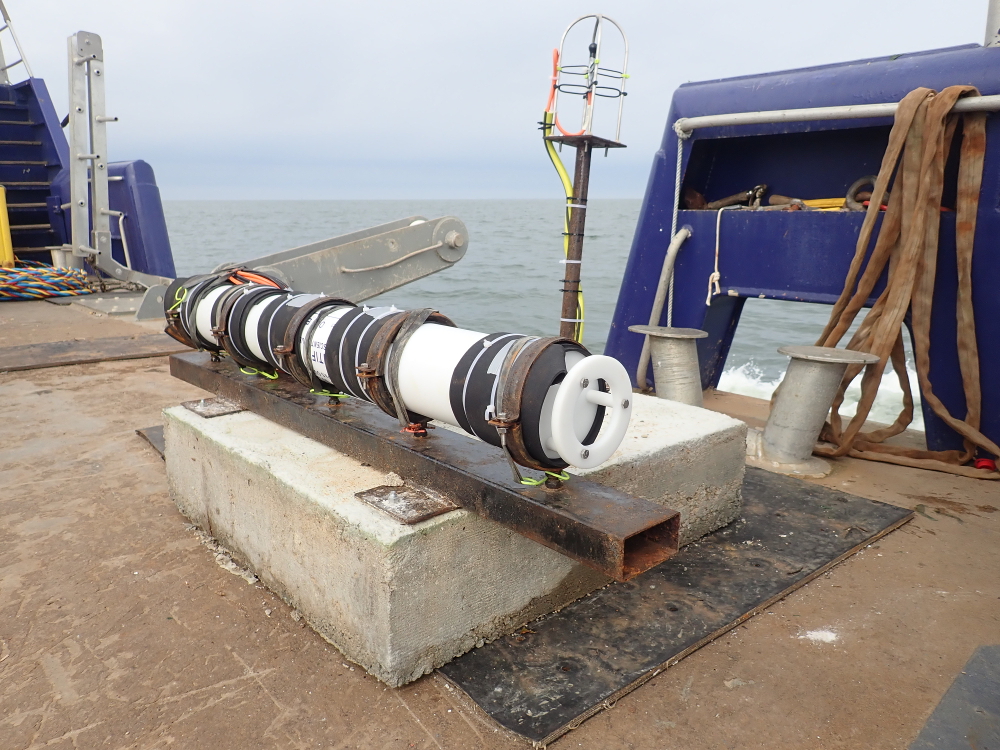 NEREIS Environnement will install acoustic sensors to characterize the underwater ambient noise. The device 'SEAc' (Acoustics of the Sea) is an autonomous tool for recording and storing data. Specific spectral analysis modules will be used to characterize ambient noise and to model the sound footprint of sound sources to estimate the potential impact of MRE activities on marine fauna.
Project tested in April 2018 on the offshore test site.
Contact NEREIS Environnement: contact@nereisenvironnement.com

Projects soon to be installed on the offshore test site:
GEPS TECHNO: Prototype IHES

Geps Techno, a company based in the Pays de la Loire, will test the wave-power prototype for the IHES project (20m x 14m x 7m high) in 2018. It aims to validate the performance of energy recovery system by stabilizing the platform. As well as demonstrating the technology under operational conditions, the IHES project will enable the development of design tools, including digital models that will optimize the products of tomorrow. Innovation is present throughout the programme: hybrid energy storage (batteries and supercapacitors), controlled stabilization, regulation without mechanical sensor etc.

Geps Techno Contact: Jean-Luc Longeroche
Pytheas Technology: PywEC project

Pytheas Technology: the PywEC project aims to develop an innovative generator dedicated to marine renewable energies (adapted to slow and variable movements) and to test it on the first French wave-power system installed on the SEM-REV offshore test site.

Pytheas Contact: Rémi Pascual
Flex Sense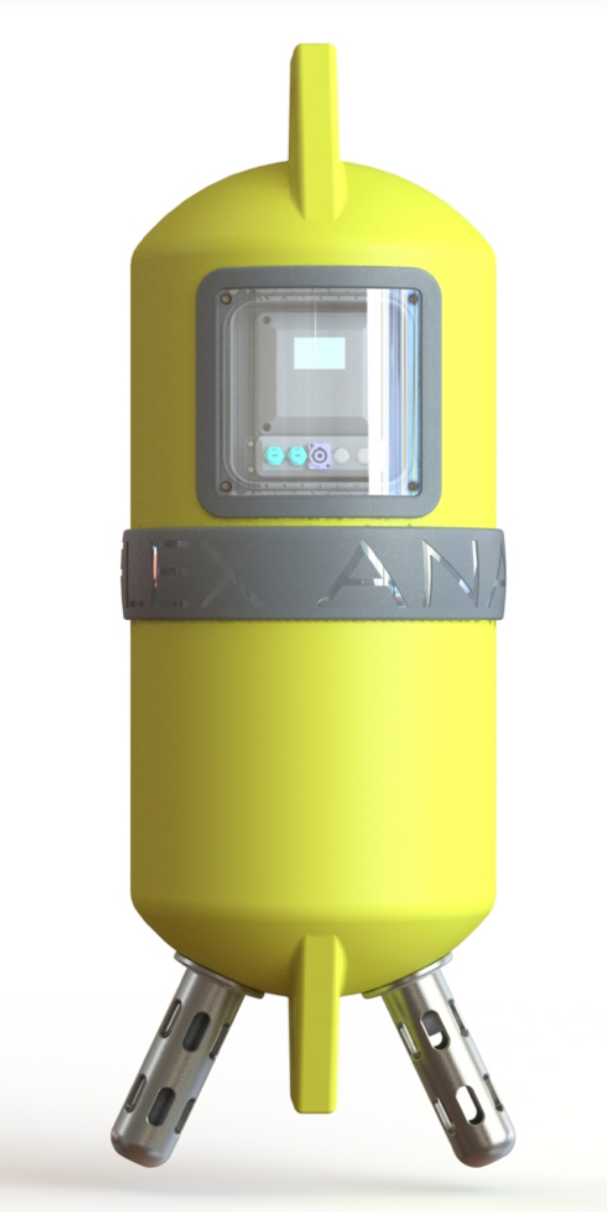 Flex Sense will deploy a connected buoy on SEM-REV to validate its capacity to perform for at least one winter. The project aims to demonstrate the continuity of transfer information via long range communication technology in offshore conditions. The innovation of this programme concerns the broad range of applications for connected objects via very low speed networks.
Flex Sense Contact:
contact@flex-sense.com
Interdrones: Aqua project

INTERDRONES and its partners ADV TECH, Akeros and LaBri will test a submarine drone able to move along the sea floor and deployed from a USV (unmanned surface vehicle) drone base. This robot will be equipped with 6 mechanical legs to move and hang on to submerged objects. The robot will also carry a video system and other sensors depending on its mission.
The robot is deployed and recovered via a 1.8 meter long autonomous catamaran with a unique propulsion system as well as a system to geolocate the submarine robot. The objective is to conduct marine research and inspection missions for the benefit of MREs.

INTERDRONES Contact: Johan Manson

Photo credits: Interdrones
Ifremer : ECHOSONDE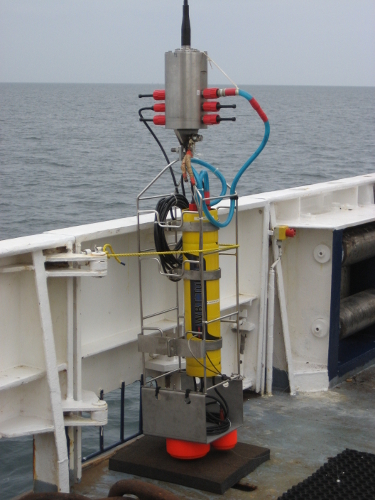 Centrale Nantes and IFREMER are both partners of the
WEAMEC
project called
ECHOSONDE, which aims to develop an integrated acoustic observatory to monitor the impact of marine renewable energy (MRE) on coastal pelagic ecosystems.
As part of this project, the acoustic echosounder is planned to be deployed on SEM-REV test site. It will provide new methods for integrated acoustic monitoring and a unique high-resolution dataset on the local coastal pelagic ecosystem prior to the building of offshore wind farms.
(Picture: IFREMER)
Wisub : SCORE
The project SCORE (Subsea Connector for Offshore Renewable Energies), developped by Wisub, aims to test at sea an innovative pinless submarine connector. The high frequency microwave electronics enables inductive power transfer and to transfer of large amounts of data at high speed.
Dynamocean
Information to come
Published on March 22, 2017
Updated on March 19, 2019