Live weather data from the offshore test site
SEM-REV, Centrale Nantes' offshore test site, which has been in place for over ten years now, continues to develop its operational and research tools. You can now consult the metocean data recorded at the offshore site located 10 nautical miles from Le Croisic and in the surrounding area.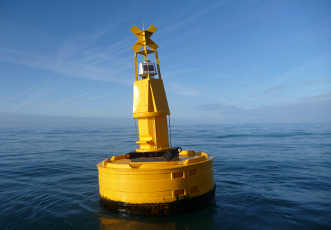 These live reports on the SEM-REV website, allow developers, operators and sea users in general to assess the live conditions to which the MRE demonstrators and equipment installed on the SEM-REV site are subjected.

Measurements at the offshore site are acquired by sensors fitted to the various buoys installed in the public maritime concession granted to Centrale Nantes.
A weather buoy can be used to record: temperature, humidity, atmospheric pressure, wind speed and direction. The wave buoy measures: swell height, direction and period and surface water temperature
.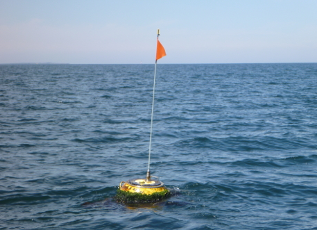 Other data acquired off site is also provided. For example, you can consult data from the onshore weather station at Penn-Avel, Le Croisic (temperature, pressure + webcam, and coming soon, wind and rainfall), data from the Teignouse lighthouse weather station (wind speed and direction) as well as the data recorded by the Belle-Île wave buoy (swell height, direction and period). Other measures are currently being studied and will be available soon.
The data from the sensors, transmitted via the GSM or HF network, is stored in archiving databases at Le Croisic. The website then allows access to the latest archived and processed data for display in various formats (numbers, tables, graphs etc.).
Archived data is used in research and application projects conducted by the SEM-REV team.
For example, it is possible to compare numerical simulations with real data (for example: sizing of anchor lines according to swell, wind and currents) as is the case for MHM-EMR, ResourceCode, MATRAC, etc. projects). Finally, for the team and its partners, the data provides better knowledge of the metocean conditions in the region (Candhis Network, WindMorbihan, etc.).

The provision of online data also makes it possible to share these records with the various sea users
. It can, for example, be used as indicators contributing to the assessment of marine conditions by area. The data on this site provides meteorological observations for experimental purposes, and as such, this site should not be used for the protection of property and people and data should not be used as a substitute for the forecasting, alert and warning services of Météo France or SHOM.
The offshore test site remains a restricted area closed to navigation. The provision of data to users also serves as a reminder as to the rules and restrictions of offshore site use as recorded on marine charts, for their own safety as well as equipment safety.

Key data is available here:

https://sem-rev.ec-nantes.fr/live-data
To consult all available data see:
https://livedata.sem-rev.ec-nantes.fr/
Published on July 18, 2019
Updated on July 18, 2019