SEM-REV presentation & mission

SEM-REV is the first European site for multi-technology offshore testing that is connected to the grid. It has all the equipment - offshore and on land - to develop, test and improve energy recovery systems (mainly from wind and wave sources).

It will play a decisive role in meeting the challenge of Marine Renewable Energy development in France. It is operated by the Research Laboratory in Hydrodynamics, Energetics and Atmospheric Environment (Centrale Nantes/CNRS), with the aim of helping industrialists develop new energy production capacities.

Using the well-known expertise of Centrale Nantes in the scope of marine renewable energy, the strategy consists in building up a continuous and pragmatic approach to the testing of technologies, and offers the corresponding facilities and services from the initial proof of concept to the large scale verification of prototypes at sea. This tryptic "modeling / ocean tank experimentation / real conditions experimentation" is a unique accelerator of MRE technologies.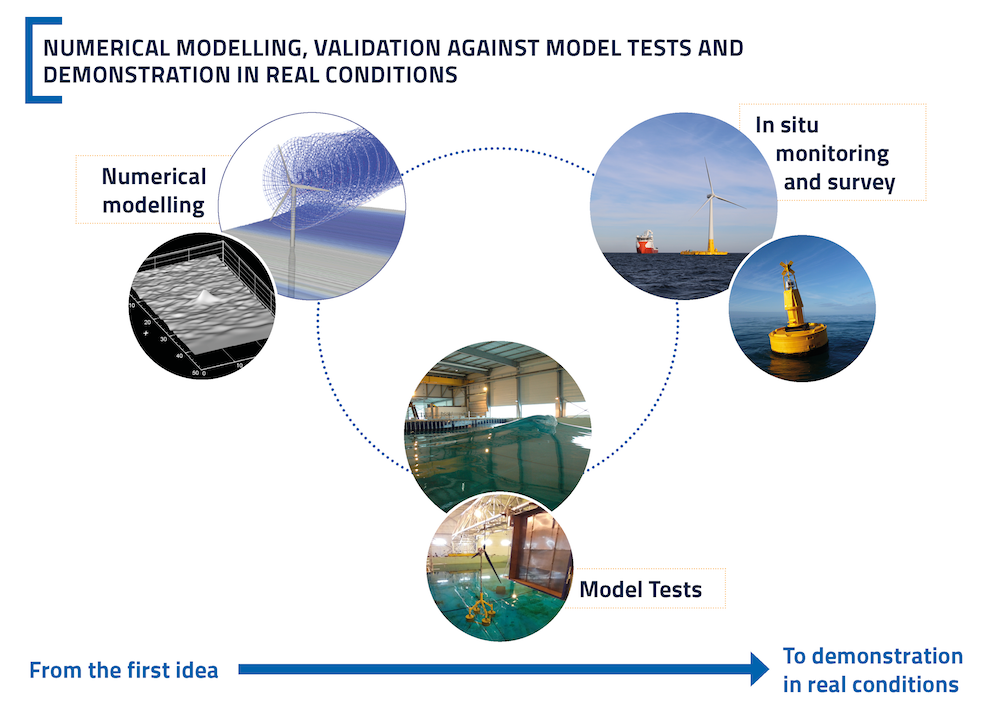 THE OFFSHORE TEST SITE
It comprises:
A 1km2 designated maritime zone, 20km off the coast from Le Croisic, fully equipped to measure sea and weather conditions (wind, swell and local parameters) and clearly marked out by cardinal buoys.
Electric infrastructure to connect the system to the Enedis medium-voltage network via an 8MW 25km-long cable
A hub enabling the simultaneous connection of three machines
A research centre, located at Penn-Avel, to receive and analyse data and control the test devices -staffed by a dozen researchers and engineers.
Site selection was based on field studies that identified an optimum site off the coast of Le Croisic on the basis of environmental and regulatory technical constraints and respect for the use of maritime spaces by offshore professionals.
OFFSHORE OPERATIONS

SEM-REV is part of a large regional industrial and research network. The offshore test site enables:
Provision of an offshore area fully dedicated to the installation and operation of technologies through the permits and authorization obtained:

Approval under the French "Water Act": preliminary consultation with sea users (fishermen, local authorities, associations) and environmental impact studies
The temporary concession for the occupation of a restricted sea zone: conditions of use, markings, maritime security with preliminary notice and recommendations to the maritime authorities
The power exploitation permit granted by the Ministry of Energy
Provision of access to meteorological data, oceanographic data and to control means, as well as offices for test surveillance

Maintenance of monitoring tools in operational conditions
Environmental impact assessment (marine environment and other usages)
Respect of rules regarding maritime safety
Support for the developers in terms of marine operations (booking of naval means, divers, sub-contracting to qualified staff…)
Support for transport and logistic activities (storage in harbor in the area, handling, booking of handling zones…)
Published on June 30, 2017
Updated on March 30, 2022